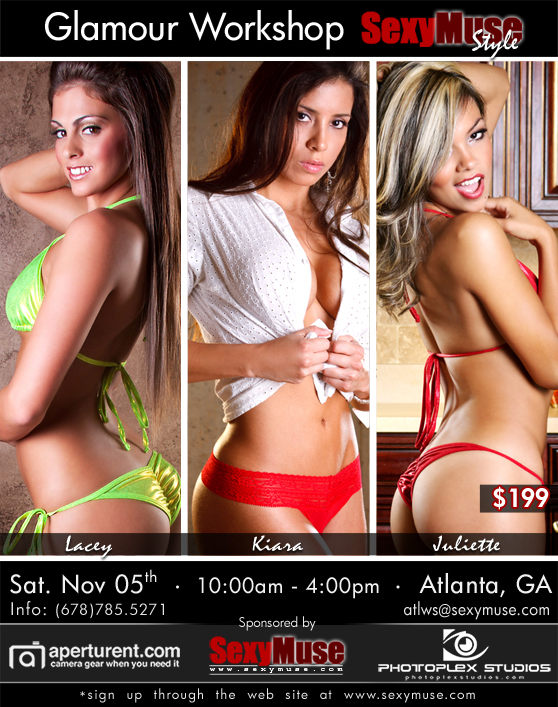 Glamour (Sexy Lingerie and Implied): SexyMuse Posing and lighting Workshop
* Are you looking to spice up your portfolio, but can't seem to find the right models or don't want to spend a fortune on modeling fees, studio rentals, or equipment?
* Have you ever wonder how can you increase the quality of your images?
* Looking for an event that can show you how to take your glamour photography to the next level?
Rocke Photography and SexyMuse.com are combining efforts to bring you this workshop with detailed training and instruction in the use of studio lighting for creating amazing Lingerie and Implied images.
This workshop is not a paparazzi style shoot out. Each photographer will have at least 20/30 minutes of individual shooting time with each model for some outstanding images in a relaxed and professional setting at a very nice Studio in the Atlanta area. And, in case you need more, be sure to plan some time for your one-on-one with your favorite models after the main workshop.
Each of the days you will work with three great models in a professional studio with lighting equipment and props provided.
In summary, what do I get?
* A full day of teaching and shooting (6 hours WS plus 3 Hours 1 on 1).
* Training (theory) on lighting and posing techniques.
* Live demonstration of these techniques.
* 3 amazing glamour models to shoot with.
* Q&A throughout the duration of the workshop.
* Power point presentation including a diagram of all the lighting techniques learned at the workshop.
* Posing guide for your future references.
* DVD with behind the scenes videos of the event.
>> Models
Lacey
http://www.sexymuse.com/blog/2011/09/19/1412
Juliette
http://www.sexymuse.com/blog/2011/09/26/1418
Kiara
http://www.sexymuse.com/blog/2011/10/10/1436
Ready for this big opportunity? Sign up now:
November 5th, 2011 – Saturday event: $199.00 – General Glamour (Lingerie and Implied)
There are no hidden fees (release fees, etc) and we will also feed you lunch.

For additional information (FAQ) click here | Contact us at: atlws@sexymuse.com | Phone (678)785.5271
Sponsored by:


(Click on the logo for 10% Discount on your Aperturent rentals)