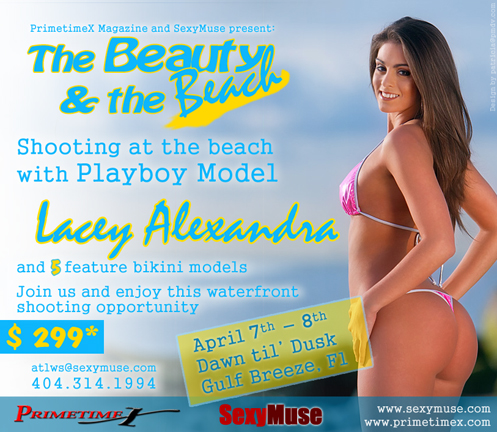 The Beauty and the Beach | Learn while shooting
Glamour (Playboy Style) | Artistic Nude | Bikini | Posing | Lighting
Practice makes perfect and practice with some of the most amazing models around, including a Playboy model makes perfect and fun!
If you want to improve the quality of your photography, one thing you can do right away is learn to use natural light better.
PrimetimeX, Rocke Photography and SexyMuse are combining efforts to bring you this workshop with detailed training and instruction in the use of studio lighting for creating amazing Bikini, Lingerie and Nude images.
This workshop is not a paparazzi style shoot out. Each photographer will have at least 20/30 minutes of individual shooting time with each model for some outstanding images in a relaxed and professional setting at a very nice (amazing) studio. And, in case you need more, be sure to plan some time for your one-on-one with your favorite models after the main workshop.
Each of the days you will work with these great models at the beach, or if you prefer, at an indoor location with lighting equipment provided.
Come to one of our workshop and get:
• Two days learning and shooting.
• Training (theory) on lighting and posing techniques.
• Live demonstration of these techniques.
• Amazing glamour models to shoot with.
• Q&A throughout the duration of the workshop.
• You'll spend 80%+ of your time shooting.
• Promotional/Portfolio Model Release from all the models are included in the price.
• 10% Discount on your rental from Aperturent
Ready for this big opportunity? Sign up Now!!!
>> Next Event
• April 07/08 – Gulf Breeze, FL – The Beauty and the Beach – $299.00
*** Sign up before March 31st and pay only $250.00

For additional information (FAQ) click here | Contact us at: atlws@sexymuse.com | Phone (404)314.1994
Sponsored by:
SexyMuse Workshop Sponsor