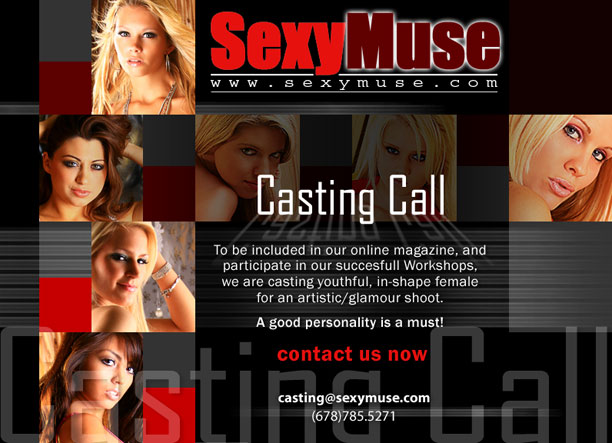 SexyMuse Casting Call
To be included in our online magazine (www.sexymuse.com), Atlanta, GA based Glamour Photographer Rocke will be conducting casting calls at a city near you.
We are casting youthful, in-shape female models ages (or looking like) 18-28 with minimal tattoos for an artistic/glamour shoots. A nice tan is helpful but a good personality is a must!
Online Magazine submissions and opportunities to participate in all of our events: Photo shoots, bikini contests, workshops & our yearly end of the year Caribbean Cruises.
You can wear your favorite sexy outfits and even bring props that compliment your look for these stylized professional photos. The flattering lighting, expert eye and amazing style of Rocke will bring out whatever hot personality traits you're looking to show off – be it sassy, fun, demure, incredible sexy or even your romantic side.
Feel like an A-List celebrity as you're pampered by this photographer and his staff that will work with you to personalize your session, making your modeling experience fun and comfortable.
At the end of the day, you will get those images that you will be proud to show off, enough to make your port shine … and even have a few left over for all of those fans of yours (but there is way more, ask for details)
* All bookings require an audition and/or test shoot: exceptions given to those models that has already worked with Rocke before
* No flakes: Models should be able to provide references from previous jobs/photographers
* Experience IS necessary. Looking for glamour model with established portfolios
Looking for Nude and Non-Nude models. Payment depend on experience. Range from $100+ to $800+
Feel free to ask any questions and we will be more than happy to provide more details.
For a list of upcoming events:
Click here – www.sexymuse.com
For more information, contact us here.
Ready to be consider for this opportunity? Complete our model application right now!!!